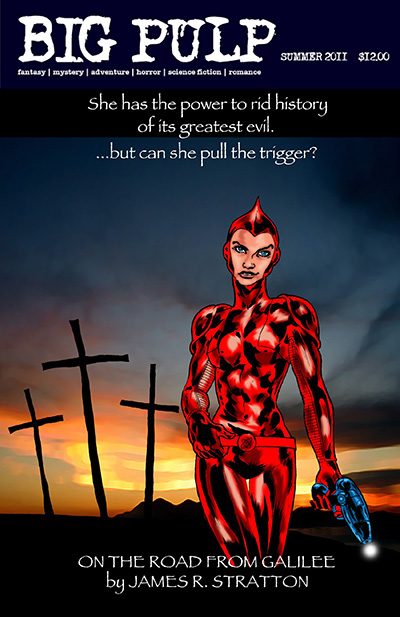 Black Chaos II: More Tales of the Zombie
Big Pulp: On the Road to Galilee
Fall 2011
200 pages
ISBN: 098364490X

Buy it now from the Big Pulp store in print or ebook.
A scientist travels back in time to rid the world of its greatest evil, but when the time comes, will she be able to pull the trigger? Find out in James R. Stratton's "On the Road From Galilee," the cover feature of Big Pulp's Fall 2011 issue! In the rest of this issue's science fiction section, discover what it takes to be "Built for the Kill," in Malon Edwards' SF thriller about gene-spliced bodyguards; take grandpa to a visit to "Luna Springs," with Patrick Hurley; and make new friends at "My Dumb Summer Job," with Jamie Mason. This issue also features SF poetry by WC Roberts.
Romance A beautiful model finds love can melt the coldest heart in "Sensitive Ice" by Keyan Bowes. In Walter Giersbach's "Misunderstood Identity," a writer receives romantic gifts from a mysterious suitor. Shannon Schuren shows us the dangers of "A Kiss and Makeup" and Michael D. Turner introduces us to Milo and Laura, who are "Struck by Lightning."
Fantasy "Blood Tells" a tale of violence in this tale of Irish horror/fantasy by Conda Douglas. Then find out what happened "One Night in Manhattan" in Edward Morris' tale of a time-tossed writer, and then learn "What Happened While Don Was Watching the Game" in Floris M. Kleijne's humorous story about a lost baby.
Mystery Jason Ridler brings us the tale of a troubled teenage girl who may be a "Flight Risk," while Paul Von Hippel infects us with "Virus," a modern mystery set in the aftermath of 9/11.
Adventure A businessman must keep a vow he made to his high school sweetheart, who is now a super-hero, in Fred Warren's "Promises," while a wealthy young woman must survive an encounter with pirates in "Thirst," by Jens Rushing.
Horror Death is coming for those traveling "Aboard the Lady Maria," by Jennifer Povey; and a serial killer takes an apprentice in "By Association" by Philip Roberts. Jonathan Golden introduces us to "Parker/Jesse," only one of whom eats gazpacho made from dead dog; Micheal D. Turner shows us what it takes to prevent a "Virgin Sacrifice," and Ed Kratz brings us a humorous short about a vampire surviving by "Paying for It." This issue also feature horror poetry by John Davies.