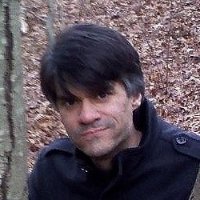 Paul Lorello
After considering a number of attractive offers that would have guaranteed him a lifetime of financial security, Long Island native Paul Lorello decided instead to become a writer. He did this by studying the piano and working retail jobs. When Paul realized he was composing more fugues than short stories, he fed his metronome to the dog and focused solely on developing his fiction. It wasn't long before Big Pulp's Bill Olver found Paul's story, "O Holy Night", amusing enough to publish. Paul then embarked on an ambitious goal of producing just enough stories to be able to refer to himself as a writer without making finger quotes. In 2014 he found himself the proud recipient of the 2014 Parsec Award for his mean little tale of suburbia, "Growth Spurt".
In addition to Big Pulp, Paul's stories have appeared in Membrane, The Big Adios, Pseudopod, and will soon be featured on the Glittership podcast. He's written one novel so far and will write another one soon.
He says of writing: "Groucho Marx taught me to love wordplay, Harlan Ellison and Theodore Sturgeon taught me to love the craft, and Catholicism taught me to love mind-bending terror."
Paul Lorello lives with his wife, Kimberly, and their three felines. He has nine pounds of cat hair in his lungs.
Follow him on Twitter @PaulLorello.
Big Pulp credits
"O Holy Night" - published online April 15, 2009
"The Last Will of Little Rosie" - published in The Kennedy Curse
"Expediency" - published in Black Chaos
"Chikcheeree" - published in Way Out West

Big Pulp Audio
Listen to our interview with Paul on the May 15, 2016 Big Pulp Audio podcast.